Our world, especially our ways of working and running businesses, has transformed after the pandemic, entering an era of unprecedented digital innovation. Virtually every industry has embraced the immense potential of digitization to improve efficiency, increase production, and attract talent from around the world. 
At the same time, meeting energy targets and reducing carbon emissions have become priorities for industries across the globe, and the AEC industry is no exception. With buildings contributing to nearly 40% of global carbon emissions, the industry and its supply chain manufacturers are exploring ways to cut down on their projects' embodied and operational carbon emissions. Additionally, federal and state building codes mandate minimum energy efficiency levels and include measures to limit carbon emissions, making green design a standard, non-negotiable feature of every building. 
Automated building performance analysis (BPA) tools combine the benefits of automation and high-performance design to propel AEC businesses to new heights of success. They help firms meet their green performance goals for building projects and enable them to achieve more in less time. This dual focus of process optimization through technology and green design provides opportunities for AEC firms to grow their business and create new revenue streams.
Using these powerful BPA tools, AEC firms can improve their creative process and work product while reducing their expenditure and optimizing their time and effort. Additionally, they help design and create buildings that go beyond simply meeting the spatial needs of their users to perform excellently and add value to their occupants, owners, and the environment. 
Let us look at how building performance analysis tools can help your AEC business grow and diversify your revenue streams.
BENEFIT 1: Offer more services at a lower cost

Offering high-demand services that respond to customer needs is a time-tested strategy to create new sources of revenue. This strategy applies to AEC firms as well. Building performance modeling and energy analysis is a key step in achieving high-performance goals in building design. Automated BPA tools allow AEC firms to carry out these steps in-house as a part of the design or construction administration phases. These tools offer analyses for a wide variety of performance aspects, all of which can be converted into service offerings such as, but not limited to:
1 //     Daylight modeling
2 //     Energy modeling
3 //     Site analysis and master planning
4 //     Carbon emissions and embodied carbon
5 //     Energy conservation measure (ECM) analyses 
6 //     Simple calculations for Investment Payback Periods and Return on Investment (ROI) 
7 //     LEED documentation 
8 //     AIA 2030 pEUI calculations and reporting
9 //     Load sizing and system design 
10 //  Integrated project delivery
Several of these performance analysis platforms have partially or fully automated processes that use automation engines to carry out repetitive tasks or data-driven iterating. For example, by integrating databases such as climate information and up-to-date energy codes into the tool, teams can save the time they would otherwise spend manually procuring the information. These features save project teams several hours, which leads to projects getting completed quicker and at a lower cost.
Integrating BPA platforms into your project workflow can help your firm reduce up to 80% of typical consultancy work, only requiring outside intervention for specialized tasks like completing compliance checks and submitting documentation for official review. Additionally, the BPA tools can connect with other platforms to continue further analyses and reporting. For example, some tools allow firms to conduct AIA 2030 reporting and green certification processes in-house.
BENEFIT 2: Build a competitive advantage
Over the past few years, the demand for green buildings surged due to regulatory requirements and the increased asset values and occupant comfort of such buildings, among other benefits. Federal investments in green infrastructure are also set to trigger growth in the green building sector across the country. There are several ways automated BPA tools can help a firm gain a competitive advantage.
AEC firms that improve their green design capabilities through automated BPA tools are effectively improving their potential to capitalize on this growth trend and are moving with the market. By investing in more efficient design processes and tools today, firms can seamlessly integrate their high-performance design goals into their workflows, increasing ROI.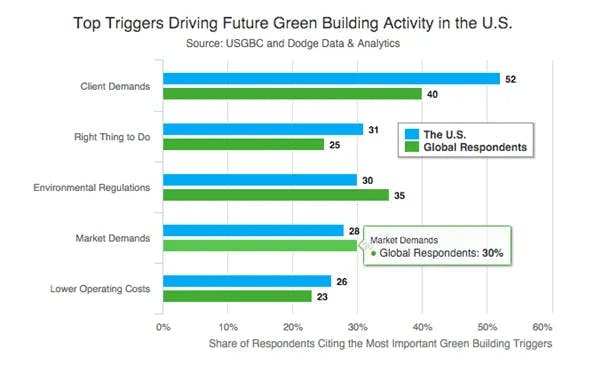 Automated BPA tools are powerful platforms that combine the expertise of several skilled personnel into one program. Using these platforms puts smaller AEC firms on a level playing field with larger firms by having more resources and strategic workflows, especially when utilizing an integrated design process that makes automated BPA a part of every design phase. This process allows them to work on bigger and more complex projects and facilitates project pursuits. 
Another benefit of automated BPA tools is that they translate data and comparative studies from performance analyses into actionable insights, often represented through infographics and 3D diagrams. By clearly illustrating the benefits of green design, these graphics can help AEC firms win projects and client approval during the proposal and concept design phases. In later stages, the clear insights provided through these graphics can help guide project discussions and encourage client buy-in for green design strategies. 
When project teams commit to energy modeling practices for every project, it shows the firm's continued commitment to decarbonization. Documenting the project's transitions through design phases provides clear insights to clients about the process of achieving high-performance design. The graphics generated illustrate quantifiable metrics that past projects achieved. These powerful testimonials can attract future clients with the same performance goals and values. 
High-performance design has become synonymous with design excellence. When an automated BPA tool is used to meet high-performance goals, it effectively shapes a better-designed building. Over time, delivering projects within budget, on time, and with a high bar of excellence garners prestige and promotes a firm's industry leadership. Additionally, a focus on high-performance design and sustainability can boost the company's brand image and client loyalty, as a company's environmental, social, and governance (ESG) actions and values become increasingly important to clients.  
BENEFIT 3: Hire and retain young talent 

It is no secret that sustainability appeals to the young. Nonetheless, this attribute has several implications for the design of spaces that these generations occupy. Research shows that younger employees want evidence that their employers are doing more than the minimum levels of environmental compliance. In a recent survey, 96% of respondents within the 18-25 age category want to work in a greener office, and 98% of the 26-35-year old respondents felt the same. Similar statistics show that young people want more sustainable residential and institutional buildings. 
Employee turnover causes significant company losses — research shows that losing a good employee can cost a business anywhere between $50,000 to $150,000. In the wake of a worldwide trend of resignation, employers and firms are looking toward improved workplace design as an incentive to bring top talent back, with high-performance design being a key attribute of these enhanced workplaces. The improved occupant comfort and productivity increases supported by high-performance design can reduce employee turnover, saving businesses millions of dollars.
Maintaining a reliable, highly-skilled workforce allows AEC firms to integrate high-performance design goals into every project and take on more projects at the same time. Moreover, implementing cutting-edge technologies and innovative processes into a firm's workflow helps attract and retain top talent who seek to improve their skills and technical expertise through their work experiences. The use of automation makes workflows more efficient, allowing firms to utilize human resources and skills in more creative and time-efficient ways, improving employee satisfaction and productivity. 
Conclusion
Market demand for green and high-performance buildings is set to grow exponentially in the coming years, with the future looking greener than ever. By enabling firms to achieve more in the same amount of time, attract and retain top talent, and gain a competitive advantage over their peers, automated building performance analysis tools can catalyze business growth and diversify revenue streams for AEC firms. This is a key moment for AEC firms to transition to automated, green-design-focused project processes — are you ready to join the movement?
To learn more about how automated BPA can improve ROI for your firm, check out our recent e-book, "The Business Case for Automated Building Performance Analysis."
Resources
cove.tool Insights