Last week, the Atlanta-based nonprofit, MicroLife Institute, unveiled its newly completed Cottages on Vaughan (COV) development in Clarkston, Georgia. The new pocket neighborhood includes eight tiny homes on permanent foundations, ranging from 250-492 square feet; a common green space for gathering; and climate-conscious development features such as solar panels and edible, regenerative landscaping. The goal of this project was to help create greater diversity of housing options in the Clarkston area and reimagine the way people think about space to develop an energy-efficient, sustainable community.
The architect, Patrick Chopson, AIA used machine learning through the cove.tool platform to optimize the community for daylight, glare, quality views, carbon, energy, and cost. Each home is designed to have enough windows to eliminate the need for electric lighting and allows occupants to utilize natural ventilation. Solar panels combined with battery backup and Mitsubishi mini splits allow these homes to be comfortable and able to withstand natural disasters. These studies helped the MicroLife team select sustainable design strategies resulting in net-zero carbon tiny cottages that are not only affordable but good for the environment, as well.
"With the effects of climate change becoming more apparent every day, we need to implement aggressive solutions in the construction industry to increase energy efficiency and join together as a community to reduce carbon emissions," said Patrick Chopson, AIA. "It doesn't take much to make a difference if you work smarter and use optimization to design more sustainable projects. The Cottages on Vaughan are a clear example of this, and I look forward to seeing this concept grow into communities around the country and the world."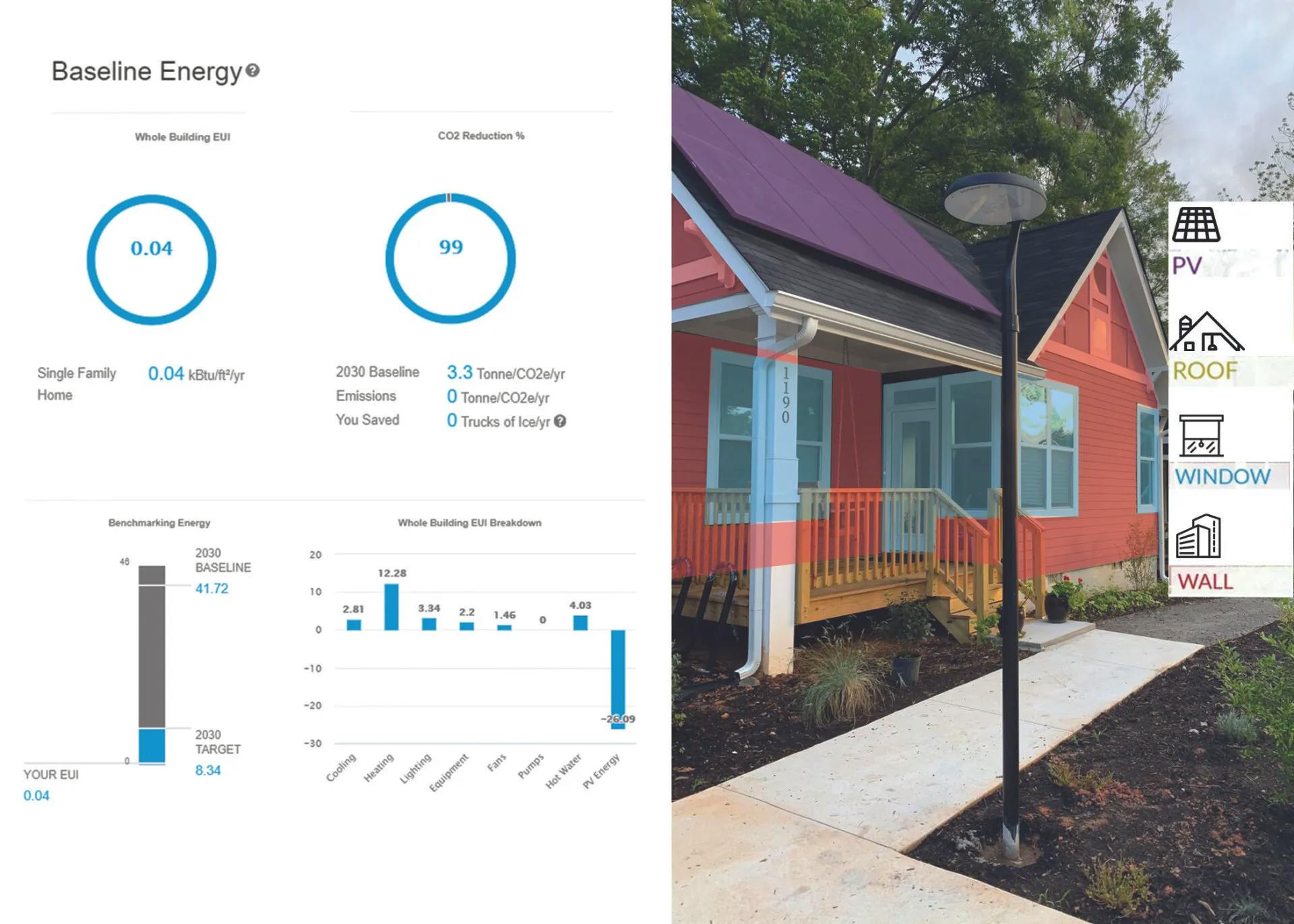 The Cottages on Vaughan development is the first of its kind in Georgia. It was originally approved in May of 2019, on the heels of 14 months of work with Council member Jamie Carroll and then Mayor, now DeKalb County Commissioner, Ted Terry to write and pass the city's first tiny-home ordinance. The new ordinance not only made projects like this possible for the city of Clarkston but will hopefully inspire other local governments to rethink their zoning and land use policies to create future developments with the same focus on sustainability, community, and affordable housing for all.
"The Cottages on Vaughn represent a new way forward in addressing the housing crisis of metro Atlanta," said Ted Terry, DeKalb County Commissioner. "Communities built with intention, not cookie cutters, are what more and more people are looking for."
To support the MicroLife Institute's mission of bringing affordable housing to budding communities just like Clarkston, cove.tool gifted the plans for these micro cottages to the organization, enabling developers to purchase the plans directly from MicroLife to recreate this concept in communities around the world.
"This project is a proof of concept for us," Will Johnston, Founder and CEO of MicroLife Institute, said. "When people see these homes, they are shocked, they can't believe the cottages are under 500 square feet, and that's exactly the reaction we want. Every inch of this space was intentionally built to challenge our perception of space and make us reflect on how we can better utilize it."
If you are interested in learning more about these remarkable tiny homes or want to purchase the plans to get started on a tiny home community of your own, visit www.microlifeinstitute.org/clarkston.
Resources
cove.tool Insights