In 2021, cove.tool launched loadmodeling.tool, our robust HVAC design, and load modeling software, designed to empower mechanical engineers, consulting engineers, and HVAC contractors to design, optimize, and collaborate within the cove.tool platform. The automated tool can help establish peak cooling and heating loads to design and right-size mechanical systems. The software's interoperability and ease of use has revolutionized the way engineers design and optimize their models. It's continually being updated to provide more powerful features and functionality.
In its latest release version, cove.tool has rolled out new features and updates for loadmodeling.tool. Notable updates include the Project Data Editor, new Air Systems functionality, and an upgraded back-end calculation engine. These features enable engineers to size air systems and do coincident loads quickly and easily, allowing them to dive in without having to look at specific details.
Air Systems Functionality
cove.tool is introducing the Air Systems functionality for loadmodeling.tool. The new feature allows engineers to size systems completely, produce coincident loads, and provides them with a simple way to make equipment selections. While users can pick from a default library of systems, they can customize them within the same interface they're used to, saving templates for future use. Engineers can also generate reports, send them to manufactures, and select their systems from a custom variable air volume unit to a packaged rooftop unit within loadmodeling.tool. More updates are planned to roll out throughout the year, with more new air systems types added regularly.
Why is this important?
An Air System defines how air is delivered to a building's spaces. It covers how the air is treated from outside conditions, how the air is controlled, and what local room units are utilized. Sizing of an Air System provides key information like the physical size of equipment that engineers and architects need to plan how they will fit in a project. They also capture a lot of the cost associated with the HVAC system of a project. There are several types of air systems that can be used to ensure optimum occupant comfort and cost. What does this mean? Read the Air Systems Help Article to learn more.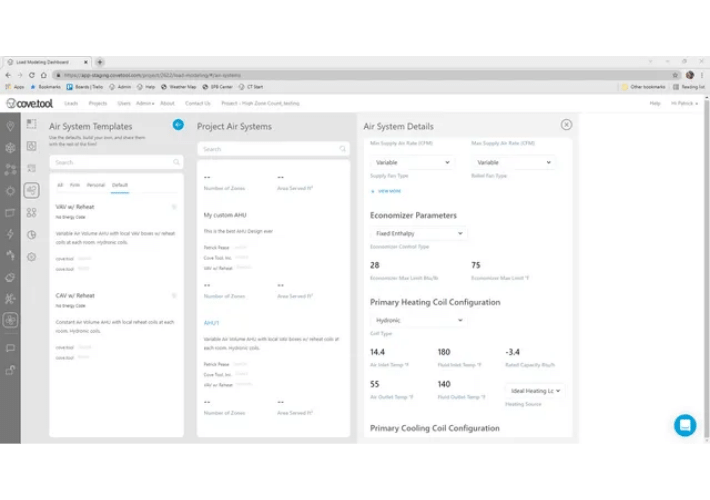 Continued Updates to Back-End Calculation Engine
We continue to show our commitment to ensuring the software remains state-of-the-art technology by continually updating its back-end calculation engine. The engine, previously using EnergyPlus Version 9.3, will now utilize the EnergyPlus Version 9.5 calculations. EnergyPlus is the industry standard for whole building energy simulation that engineers and architects can use to model energy consumption in buildings. It provides an integrated, simultaneous stimulation of thermal zone conditions and HVAC system response that doesn't assume the system can meet zone loads and simulate un-conditioned and under-conditioned spaces. EnergyPlus is currently the gold standard for load modeling calculations. It's both powerful and highly customizable and provides users with control over the resolution of results, run times, and calculation methodologies. 
Why is this important?
The back-end calculation engine is a critical force in ensuring the accuracy of calculations. EnergyPlus 9.5 includes fixes for over 60 known issues and bugs. So, while physics itself has not changed much over the years, updating the engine ensures that the application can run multiple EnergyPlus simulations that will not interfere with one another, helping to reduce run times and ensure reliability.
The Project Data Editor
Among the new updates is the Project Data Editor - a massive expansion for the tool. The editor provides engineers with a tabular way of looking at buildings, allowing engineers to create zones that they can assign to the air systems they are using. The feature makes it easy to visualize the hierarchy of data and unlocks future updates including a dedicated ventilation feature. It's easy and quick to use and minimizes the number of dialog boxes that users need to look at. Users can also create and save templates that they can use for subsequent projects.
Why is this important? 
Managing project data takes time and can often create unnecessary project delays. Having the ability to manage project data quickly and easily decreases the time it takes for load modeling. The tool simplifies a process that can often be complex, promoting collaboration.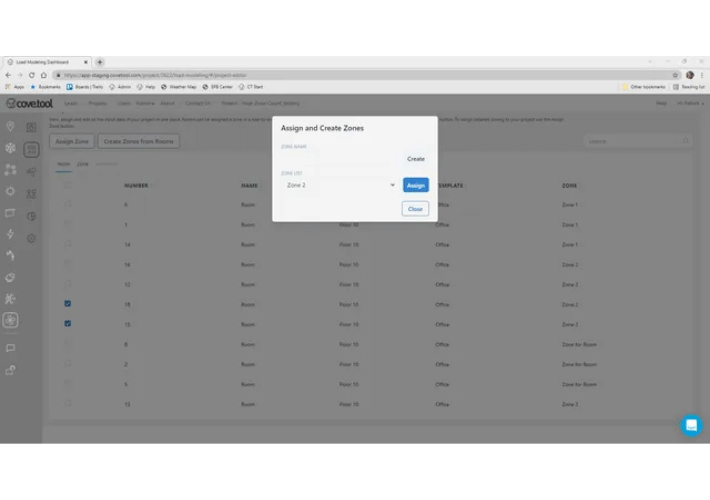 About cove.tool
We fight climate change by helping architects, engineers, contractors, and developers use data-driven design through automation and cost optimization. We lead by example by making science and transparency central while pushing the boundaries.
Resources
cove.tool Insights