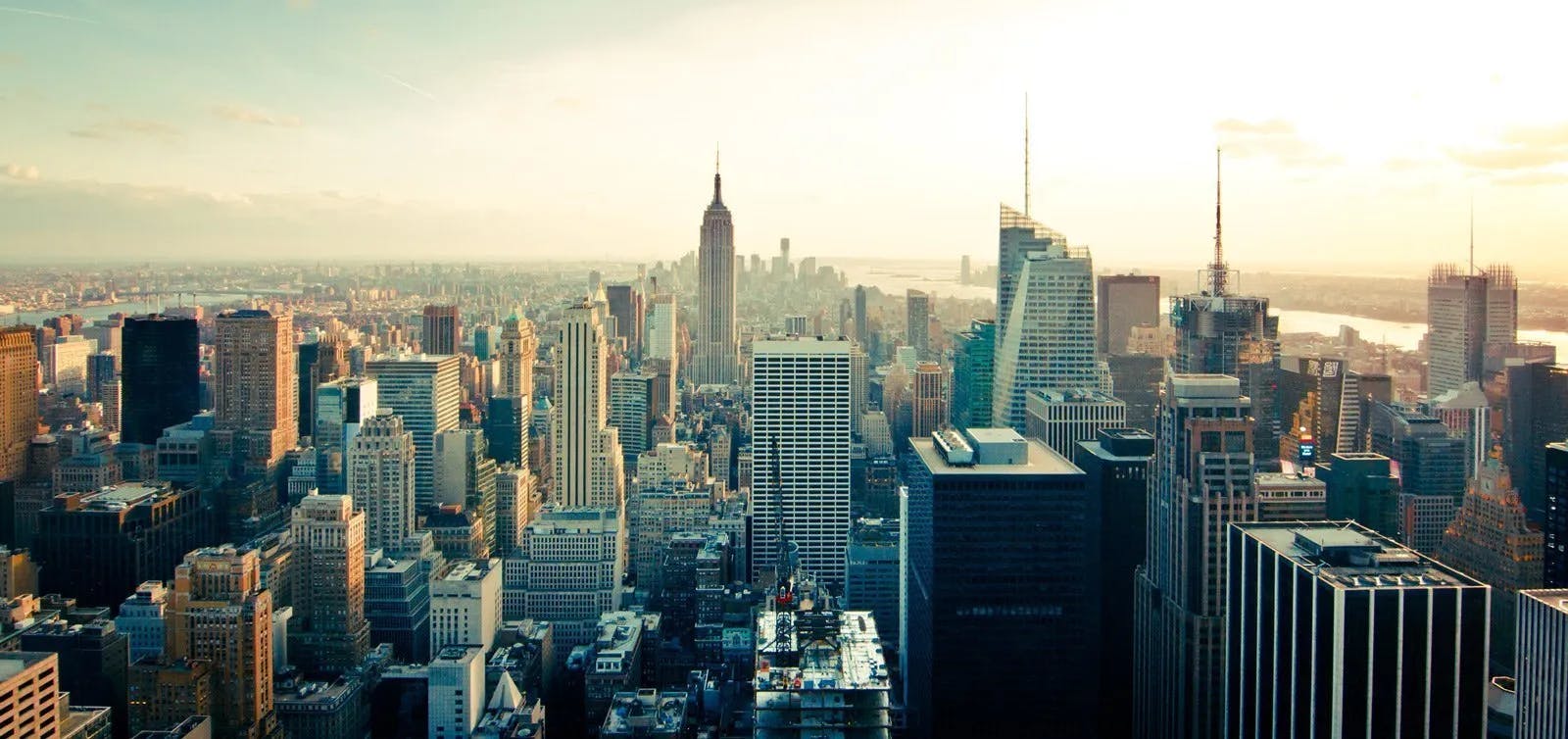 Between the global health pandemic and increasing pressures of the climate crisis, almost every aspect of the world that we live in is in the midst of transformation. Within the built environment, architects, engineers, contractors and developers are adopting new tools and strategies to make their buildings greener, while also prioritizing the health and safety of future tenants. So what does this mean for the AEC industry as we dive into 2021? 
Thanks to our data-driven platform, we get a front row seat to the latest emerging trends positioned to drive the future of the industry. Pulling data across 10,000+ projects and 483 firms in North America from the cove.tool platform, we're excited to share with you our first-ever AEC Market Report. Looking at everything from types of new projects by month to COVID-19 impact to average daylight, glare, LPD and more, our report gives you a glimpse into the minds of leading AEC decision makers and the future of sustainable building design.
Here are a few of our top findings and what we expect to continue to see in 2021. 
The Impact of COVID-19 on Development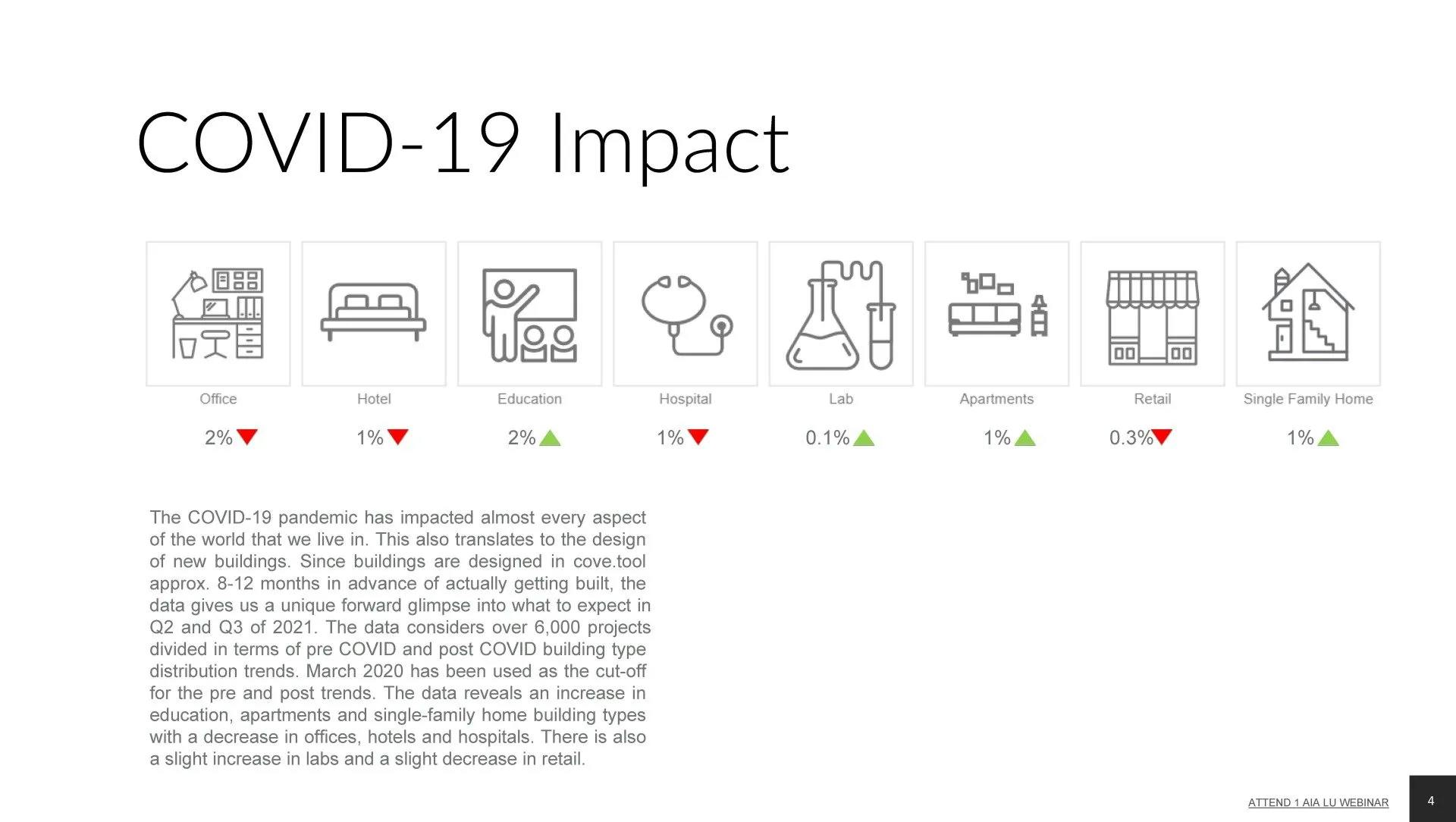 With the majority of individuals thrust into remote work and spending more time at home than ever due to COVID-19, residential projects increased to address this new reality. Similarly, with most students adopting remote learning off campus, education projects also saw an increase. On the other hand, demand for office space dropped by 2%, making it a significant shift from pre-covid growth.
We saw some winners in 2020. As we mentioned, there was a consistent rise in the apartment building typology throughout 2020. The education building typology grew almost throughout the year, with the exception of three months: March, April and May. This trend showcases the campuses taking advantage of not having students, so that they are able to make all necessary changes until students return back in the upcoming semesters. We also saw a rise in lab building projects, which are a typical building typology at universities. 
Other building types were forced to adapt. Office buildings rose until April but saw a drop until October. Since then, this building typology has started to rise again. Single-family homes have also varied greatly, swinging up and down throughout the year.
Some building types also experienced declines. Retail buildings, while high towards the beginning of 2020, dropped in the second half of the year. New hospital design projects have also observed a slight decline.
Offices and Education Facilities Became More Efficient, While Hotels Did Not
In the long history of buildings, sustainability is only a fairly recent phenomenon. With buildings and their construction accounting for 39 percent of carbon emissions annually, we found that in 2020, offices and education building plans have become more energy efficient to combat high pollutants, whether through higher performance envelopes, efficient lightings, mechanical systems or solar panels.
Hotels, on the other hand, tell a different story. In 2020, the average across all hotel buildings showcased an energy use intensity (EUI) at above 150 per square foot (compared to offices taking up around 75 EUIs)). As the pressure to build more sustainably continues to mount,  in 2021, we anticipate hotels will be scrambling to pick up the pace to make their buildings more efficient.
What's Coming up in 2021?
2020 brought vast changes to the industry. Now, as we dive into 2021, here are a few trends we expect to see:
Further reduction in building EUI due to the latest regulations for energy efficiency
An increase in residential project to support the increasing remote working population
Increase in retrofits to change the building use type
Keep an eye out for our next report, coming soon! In the meantime, if you are an architect, engineer, contractor or developer and are interested in learning more about smart, sustainable building design, reach out to the cove.tool team at hello@covetool.com.
Resources
cove.tool Insights